| | |
| --- | --- |
| Pages: [1] 2 3 ... 5 | |
| | |
| --- | --- |
| Author | Topic: New Additions! Price Drops! Collection Liquidation! YYR! ILYY! (Read 9640 times) |
---
PayPal only please!
Please initiate all negotiations through PMs -- DON'T post in this thread please!
For insurance reasons, international sales will NOT be declared a lower value when shipped. Buyer is responsible for payment of any applicable customs or import fees and taxes.
SORRY, NO TRADES!
Pictures of damage to be administered upon demand.

Talk to me about package deals!

'Sup guys. Been kinda out of the game for a while and I've got some stuff I'd like paid off, so I'm putting up the majority of my collection for sale. This stuff is priced to move but I will consider negotiation
within reason
in certain circumstances. For that reason, prices quoted are considered "Or Best Offer" implied.
ILYY:
I've got pouches that will be included with all sales while supplies last with the exception of the Josy Ann. I also have a metric KonKave bearing that I can include in addition to the stock flat bearing for an additional $10. In my opinion, it best compliments the play of the 2WEI, but whoever wants it first gets it.
Sakura - $45
Some damage on the rims. Doesn't affect play except palm grinds. Never was dead smooth, but pretty smooth nonetheless. Underrated powerhouse throw for its size.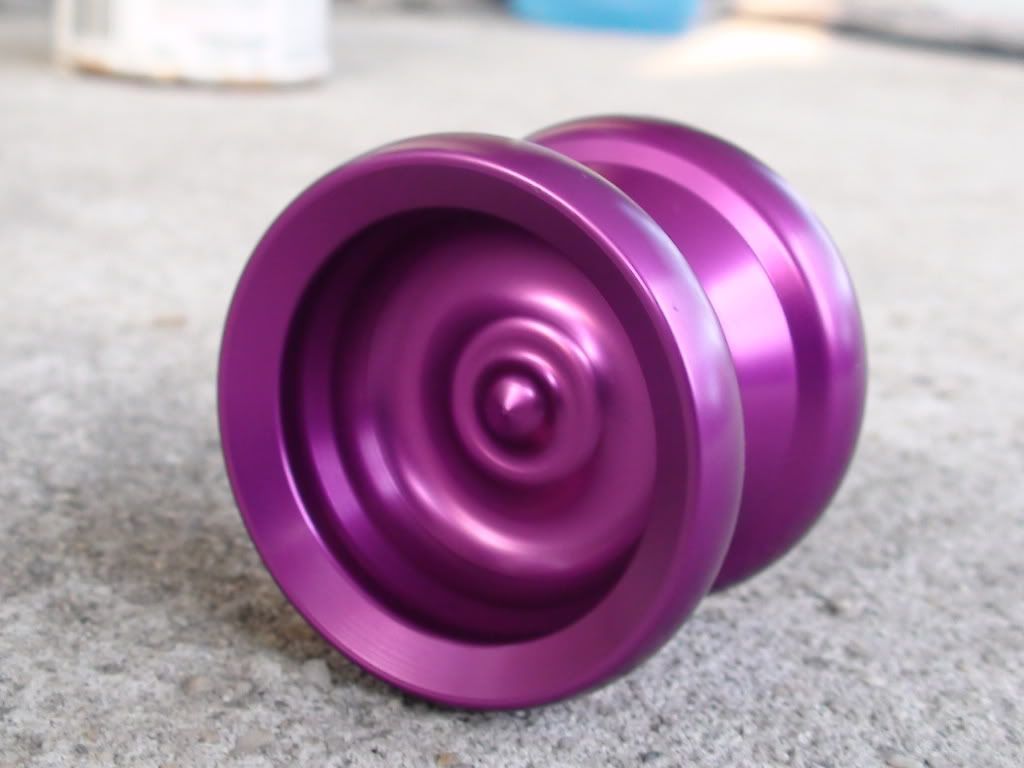 Torino - $55
Small nicks around the rims from hitting my ring. Pretty smooth and totally awesome looking in the limited green colorway. Perfect fusion between the organic curves of ILYY and the step profile of YYR.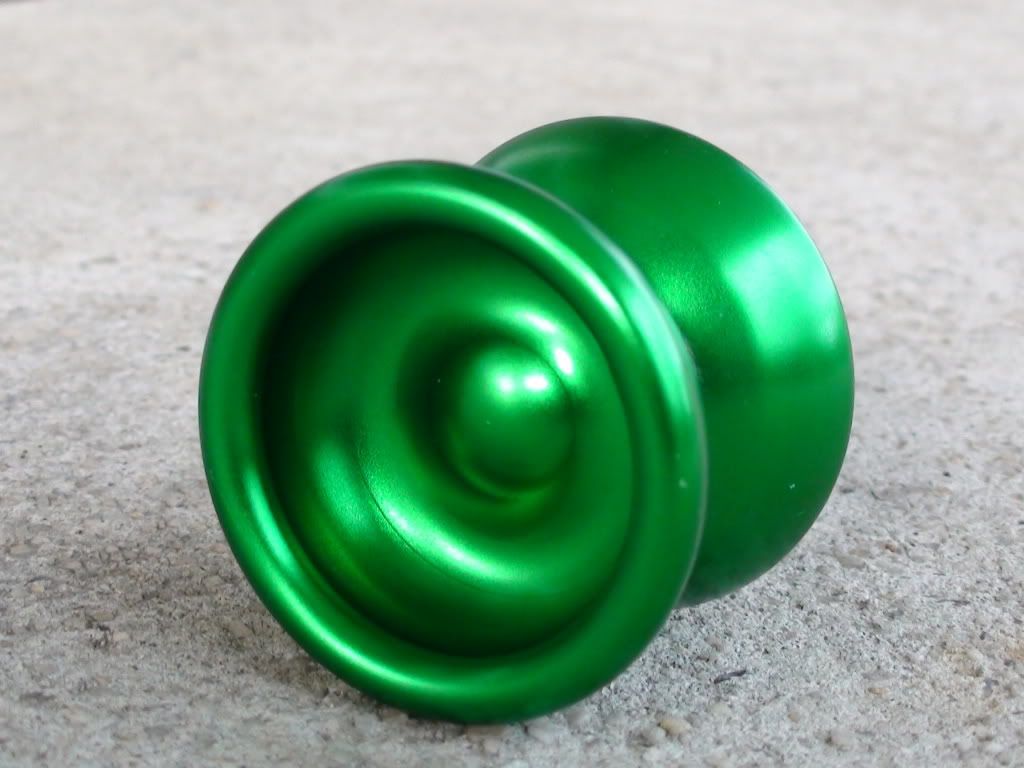 Greyhound - $70
Mint. Awesome fast throw, and the red candodize looks amazing.
Also plays great with a KK (hint, hint).
Fury - $70
Mint. One ano flaw in the hub area of one side (pictured) and the blast is a little dirty in some areas of the rims. Neither of these affect play obviously, just minor discoloration in both cases. My favorite H-shaped throw by far, and it continually surprises me that this thing actually weighs 70 grams.
YYR:
YYRs include boxes while supplies last. I have one more YYR box left so the next buyer gets it. No more boxes guys, sorry. Unless noted otherwise, my YYRs come with a KK 10 Ball bearing for superior playability. If you haven't played a YYR with one of those bearings, you NEED to experience it!
Stardust 2: $160
Mint. Pretty hard to come by. Not to be confused with the Stardust
v2
, this is the updated version with modern YYR guts that was released in 2011. Took me a long time to get ahold of this thing and has been extremely scarce in US-friendly retailers since its release. Awesome tribute to the original Stardusts. Semi-fresh soft broad YYR pads installed, and I'll throw in whatever pairs I have left since this is my only throw that takes them. That in and of itself is a considerable value -- YYR pads ain't cheap!
PENDING!
Dreadnought G: $120
Old run, grey beadblasted version which requires pad response. Worry not, k/cbc-pads work perfectly. Pretty smooth and will eat your longest combos for breakfast. Has some areas where the blast seems a bit... dirty? Also some minor pink coloration seems to be rubbed in the inner catch zone. These flaws are all cosmetic, so you still get this tank of a throw with the now-discontinued YYR beadblast that I'd describe as nothing short of amazing. It's not quite a C3 beadblast, but it's up there.
Alright guys, I think that's it for now. Give me some offers!
SOLD ITEMS:
Messiah: $120 Semi-rare purple non-blasted old logo unit. Accepts silicone, plays smooth, best undersized throw ever bar-none. Small scuff on the rim on the logo side. Somewhat fresh pads on it, can't tell if they're YYR pads or irPads, but they're awesome either way.E=mc2 - $185 Mint and originally raw. Mirror polished by Sunny. Incredible example of a mirror polish, and pretty dang smooth on a good throw. Small vibe on the fingernail test. Like with the Blink, I'd advise against opening it if possible because it took a while to tune it this smooth.Solenoid - $135 Absolutely amazing throw. On par with YYR in most every way. The aqua color is incredible as well. Includes a super smooth, super quiet KK 10 Ball bearing (my absolute favorite bearing of all time), but I can swap it out for the stock Center Trac if you'd prefer.Maxbet - $80 I can't decide if I like this one or the Solenoid better. Superb stability. Formerly one half of a 3A pair, so there are some light dings all around. Still completely smooth, and it's raw so you won't be grinding with it anyway.Ti Walker #19 Really don't know about getting rid of this one, but here it is. It's got a small ding on the rim of the "Ti Walker" engraving side from falling out of my pocket on the concrete porch. What a ripoff, right? It was polished smooth so it's not too terrible. I polished the rims and hubs and I put a satin finish on the inner catch zone for ace looks and playability. Includes original box as well, and if it's important for the prospective buyer I may be able to locate the original ceramic bearing that it came with. Comes with a One Drop 10 Ball otherwise. Since I'm so on the fence with this one, I'm asking that you aim high when making offers. I'm talking

>

$300.H5 - $70 Super fun and super oversized (even bigger than YYR's Dreadnought!) but superbly playable in every way. One small ano scuff on one of the rims and a small flat spot about the same size right next to it. Still completely smooth. Includes original box and pouch.Acrophobia: $150 Mint. Super floaty and super awesome. Surprisingly comfortable, and dead smooth!Blink - $195 Mint and originally raw. Started to mirror polish it, and got most of the way there, but there are some small ripples in the hubs that could probably be polished out with a little elbow grease. Pretty smooth for a Blink -- you can only feel a slight vibe while idling at the end of the string. I'd advise avoiding opening it when possible because I recall having to take a bit of time to get it that smooth. Very rare in the US market. If you want one or have wanted one, I'd suggest you hop on it. I'll give it a good once-over to clean up the polish before I ship it out.Josy-Ann - $35 Mint. Actually a really fun throw. Surprisingly smooth, and the finish is great and worn in in the catch zone so it doesn't eat strings. No pouch for this one, but if you really want one I'll grab a pouch from a craft store and write "Josy-Ann" on it in sharpie like they came brand newLynx - $60 Mint. Plays like a Peak, only more stable as far as I'm concerned. The gold candy blast finish looks awesome and palm grinds are sweet on this thing.2WEI - $80 Mint. Pearl 2.0 coating is awesome and with a KK it plays like a beast. Pretty smooth and forgiving, though not something I'd consider competition grade. This one is from the first production run if that matters to anyone.Stargazer v2: $120 Couple flat spots that barely break the ano on the tips of the rims and some other very minor damage. Polished engravings add to the aesthetic appeal in my opinion, and overall the proportions of the design make this YYR's most aesthetically pleasing YYR to date. Gold ano in this design is pure class. The bearing that is installed is not one of the aforementioned KK 10 Balls, but the particular make of obscure Asian KK bearing is the only one that completely smooths it out. I believe the pads installed are fresh YYR soft pads to level out the inherent slippiness of the stock response. Classic flagship model of everything that YYR stands for. Pictured below on the right.Liopleurodon - $80 Mint. YYE limited blue ano 2011 version. Probably the most coveted ILYY throw, and for good reason. Plays very deliberately, pretty smooth, and the profile is absolute comfort. The blue candodize finish is incredible as well. This along with the 2WEI are my two favorite ILYY throws, hence the pricing.Dreadnought: $155 Custom ano'd by Jason Wong solid purple and Angel Dust finished by CaliBuddha, completely undamaged (can't say "mint" because it has been altered from factory condition). Was originally raw and mirror polished by Sunny. It's a new run model so it will accept flowable silicone. Not even joking, one of the smoothest yoyos you will ever throw in your lifetime, especially with the KK 10 Ball.ClashCube: $115 Mint, red, surprisingly awesome. Dead smooth too. I have a spare bearing that I can throw in there for you, as this is my only D bearing throw. I think everybody owes it to themselves to at least try it. My preference is oversized but I still find this little guy packs a baffling amount of power.Overdrive: $170 Super small flat spot on logo-side rim and a couple teeny tiny pinpricks on the opposite side rim. Overdrives were not known for their smoothness, but this one isn't bad at all, especially with the super smooth KK 10 Ball bearing. Very hard to get ahold of. We've been waiting on a second production run for what, almost a year and a half now? Jump on it.
« Last Edit: September 17, 2012, 09:55:13 AM by ratfacedudeguy »
Logged
---
---
late bump
Logged
---
bump
Logged
---
bump
Logged
---
bump
Logged
---
bump
Logged
---
bump. Sasquatch pic up!
Logged
---
bump
Logged
---
bump. Sasquatch gone, 54 added!
Logged
---
bump
Logged
---
bump
Logged
---
bump
Logged
---
bump
Logged
---
bump
Logged
---
bump
Logged
---
Bump for thread change.
Logged
---
bump please
Logged
---
bump
Logged
---
bump
Logged
---
bump
Logged
| | |
| --- | --- |
| Pages: [1] 2 3 ... 5 | |