---
ATTENTION: After debating and discussing the idea for awhile with the community, Vs. Newton YoYo Concepts has decided to step away from its original non-profit stance and focus more on expansion and making sure everyone that wants a VsNYYC has the opportunity to try one. Please feel free to PM me with any questions or concerns on the matter, and i will make haste to respond.
well, i've been here for a few months now without too may mishaps. perhaps something more official looking is in order

notice the shiny logo above this. thats your company. no typo. YOUR company. congratulations!!!!! *high fives and alcohol at your favorite wingery to those old enough*
you guys made this into what it has become, and efficiently have made me little more than an ecstatically happy servant boy carrying out your yoyo needs. i wouldnt want it any other way. Vs. Newton YoYo Concepts (VsNYYC) was made for you guys and girls to thoroughly enjoy, and it would seem that lots of you are at least remotely amused, so i guess i'm at least getting somewhere towards my ultimate goal........*insert maniacal laughter*
heres a few designs that you guys have made with there specs
the original gangster himself......the Sky Walker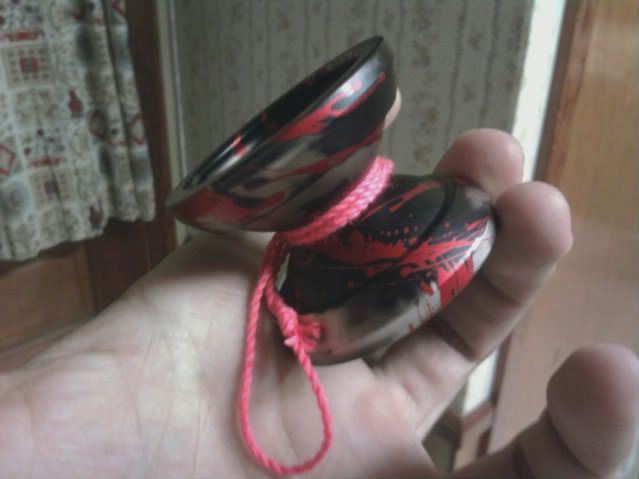 OD: 52.8mm
Width: 42mm
weight: 65.5g
gap: 4.1mm
silicone response and C bearing
the new assassin on the streets, the Battosai
OD: 51.1mm
Width: 40mm
weight: 65.5g
gap: 4.1mm
silicone response and C bearing
the rarely seen SADR (Secret Agent Decoder Ring)....this is all of the SADRs that were ever made
OD: 54.1mm
Width: 38mm
weight: 63.8g
gap: 4.1mm
silicone response and C bearing
with all of that deliciousness up, i suppose contact information would be a good thing.....please note,
IF YOU SPAM ME I BLOCK YOU
SN on all forums: HVizier
email:
HVizier@cs.com
let me know how im doing often. its the only way ill get any better at this!!!
« Last Edit: May 30, 2012, 10:03:09 PM by Heath »
Logged
---

http://s722.photobucket.com/albums/ww228/hvizier/
---
Congratulations Heath
Logged
---
---
Awesome Heath! Sky Walkers will be flying off those shelves!
Logged
---
---
Happy times for all
Logged
---
---
Get It!!!
Logged
---
Sick!
Logged
---
---
Congrats Heath! Looks like a great throw.
Logged
---
For all your yoyo ordering needs please contact the good people at yoyonation towers..
info@yoyonation.com
---
Can't wait!
Logged
---
---
thanks guys. keep you eyes open and your clicking finger ready......BAC approaches
Logged
---
Get on heath's level.
Logged
---
Guy sells your mom a fake Louis Viton Purse.
Your mom discovers it's fake a few weeks later.
You ask her if it works.

---
i love my life =p
Logged
---
A bro with no haters is a bro whos never stood up for anything in his life
---
Awesome!
Logged
---

---
its great, but the price thing....
Logged
---
Yes it is a weapon
_ _
l \ / l
l \ / l
l \_/ l
l /\ l
l / \ l
l_/ \_l
---
its great, but the price thing....
its the sole purpose of a business to make profit.
i
REALLY
dont want anyone to fit about this. my personal ideals for VsNYYC do not mesh well with normal business concepts. non profit and normal businesses each have their pros and cons. neither of us are wrong, but neither of us have the right to force the other into submission. with that said, you dont have a right to condemn YYN for doing the very thing that a business is suppose to do. this agreement was made to better assist the community (IE, YOU), and while the cost may be more, EVERYTHING about VsNYYC will now be faster and more efficient. faster regen of money on my side results in faster releases from VsNYYC. more production runs lowers my machining costs, which lowers costs over time.
let me know if you have any questions, but also understand that this was thought about
EXTENSIVELY AND IN PAINFUL DETAIL
prior and both i and YYN talked about it LOTS before deciding upon this finalization.
i hope you guys can understand this
Logged
---
I must have one.
(I love the specs)

and

Can only replace the response by re-siliconing or can it accept a certain pad.
(I like either way.)
« Last Edit: May 12, 2010, 07:15:21 PM by nowhere kid »
Logged
---
I like throwing.
---
clears up ANY shadiness anyone may have had about VsNYYC

People thought you were shady? It may be time to hire that Mafia hit man I told you about.
Errr.... wait...
Logged
---
I want to be a race car passenger, the guy that bugs the driver.
"Say man, can I turn on the radio?"
"Hey, you really should slow down."
"Why we gotta keep goin' in circles?"
"Man, you really like Tide."
---
Looks absolutely stunning Heath!
I see you like to take after your YYR buddies with the V-shape
I woud love to have one, but don't have the money.
Logged
---
HO-LY-CRAP> it looks beautiful
Logged
---
---
How many will be available in the first run!? I must have one!
Logged