---
I actually bought a 07 yuuki 888 at nationals that year

they also didn't have the string due to issues although i do have a b grade version that does
« Last Edit: August 07, 2009, 11:40:05 AM by sparhawk »
Logged
---
---
wondering about the numbers on the hws, such as the allyo hw to regular allyo.
also, my aussie hw has no engravings. did any of them? I know the regular aussie did.

edit. I see in the pic that the aussie gold hw did have engravings. whats up with mine?
« Last Edit: August 06, 2009, 12:21:09 PM by Dizzo »
Logged
---
---
Ben, I think your awesome for putting all this out there. I really like your personality.
I'm keeping the other two cents in my pocket.







Logged
---
i have a 07 nats 888, it sure is awesome, the white walls on them are super awesome.

im usually not a fan of YYF but the 07 888 really is a awesome yoyo.
Logged
---

---
i was wondering how many 888 colors and editions were made...
Logged
---
Any chance we can hear the history of the 888 after the first '08 888? I'd be quite interested, there's a lot of editions here I've never heard of and now really want.
Logged
---
---
The point at which the original tooling broke would be handy to know as well, as after a point the weights of each run started varying, and I believe the 1st run aquas are the "original" design, and the premium aquas were heavier, or with a different weight distribution. Ben said in another thread about the tooling breaking, and this forced them to redesign the 888 to become consistent again, and hence the 08 888 was born.
Logged
---
---
This post hasn't been posted for 2 1/2 months.
But I bumped this thread cuz its really handy.

P.S. Is the 888 Aqua a B-Grade Premium Edition?
« Last Edit: October 25, 2009, 09:14:27 PM by YoPlayAgy »
Logged
---
- Agy
---
necro.>.<
Logged
---
---
necro.>.<

No not really... It has been moved to the museum section where it rightfully belongs.
Logged
---
---
ok w/e not that i mind
Logged
---
I have a 888 Ocho8Ocho "Classic" edition.

I used to have a 09 888 BAC B-Grade edition.

And, I've played with the original 888x.
Logged
---
For the record, I'm picking up a Nats 07 888 soon.
I'll post some pics when it arrives next week.
Logged
---
---
The first 888s with YYF logos were released on my Birthday.
Logged
---
Little more in-detail of the 07 Nats Ed.
Logged
---
I have a "Purplicious 888" Small Bearing. According to a few uses of the search engine, only 40 were made. Will be taking HD pics soon.

Any one know any more about this yoyo?
Logged
---
"You cash it. You pack it"
---
I will hope to be getting an 888x and I would like to buy all of ben's yoyos for about $100,000.No, but i think it would actually be cool if someone compiled a list of probuction runs for al the YYF's. Not fancy info that ben inclided, but just the runs.
Logged
---
---
i have a cherry and a 08 one. it has engravings and says, "the evermore"
Logged
---
I just bought an 07 Mr. Yodel 888. The smoothest yoyo I've ever thrown, no questions asked.
Logged
---
my friend's one, but one of the best players I've ever thrown...
'07 first run.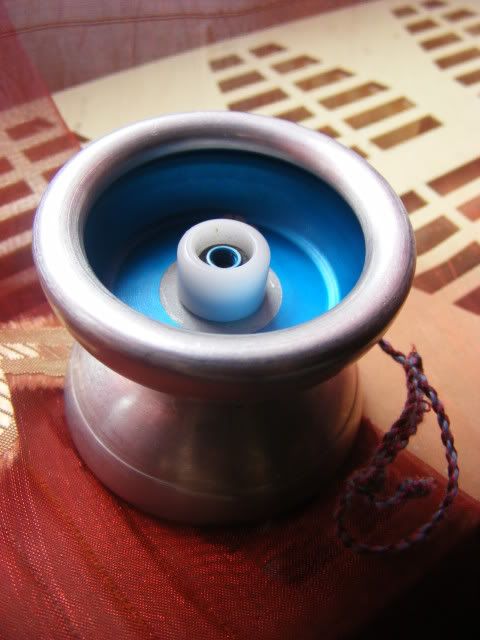 loved it
Logged
---